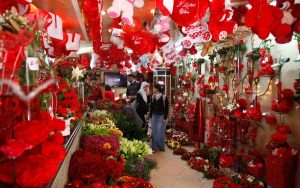 With Christmas Day just around the corner, it hardly seems like the time to be worrying about Valentine's Day.
However, with the day of love just seven weeks around the corner, the smart people are getting themselves prepared to make sure they're not left out in the cold come February.
It's estimated that we send and receive 1 billion Valentine's cards throughout the world every V-day and with two-thirds of us saying that it is our spouse who brings us the most happiness and satisfaction, it's the time to be sentimental rather than cynical.
Many people argue against valentines' day saying that they tell their partners on a daily basis how much they care for them and don't need a special day to declare it. However, just on the off chance that your partner doesn't share this perspective, it's better to be safe than sorry.
With that in mind, offers a bunch of gifts ensuring you to get Valentine's Day right:
1. Book the night off
Whether you're normally at work or have social engagements which keep you away from each other, get them cancelled. This is your night together.
2. Book a babysitter
Children are the greatest things, but they're also the greatest distraction. There's no way you'll be able to create a romantic atmosphere with children asking when dinner is ready or why there are candles on the table, so finding a willing babysitter is essential.
3. Make it special
You don't need a swanky restaurant to create a perfect atmosphere: you can just as easily stay at home, cook for each other and make the most of your time but ensure that you make it special
4. The gift
Choosing the perfect gift needn't be a headache experience. Purchase personalised gifts from books to glasses, clothing to cushions, all designed to let the special someone in your life know just how special they are.