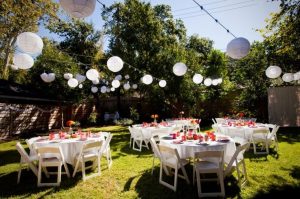 When the summer arrives, we have to make use of the fine weather as much as possible before the nights start drawing in again. You may want to hold an evening party in your garden or on your patio during the summer, but are you properly prepared? There are a few simple things that you can do to spruce up your outside space with ease, which can help to make your party more enjoyable for all your guests. Here are a few of the best ideas for preparing for your garden party.
Cut the Hedge & Mow the Lawn
The first thing you should do is make sure your outdoor space is in good shape. Mow the lawn to start with, and if you have a hedge then cut it back so that everything is looking tidier. You may also want to clean up the borders of your garden and remove any twigs and other debris so that it looks more presentable.
Buy New Furniture
Next, take a good look at your garden furniture and decide whether it is really going to impress anyone. If not, it is a good idea to invest in some tables, chairs and even outdoor sofas so that people can relax and enjoy themselves in comfort. One of the classic problems with garden parties is not having enough chairs, so make sure you buy enough for everyone.
Install Outdoor Lighting
High-quality outdoor lighting can be used to make your outdoor space particularly attractive after the sun has gone down. There are many types of lighting that you can choose from, and they range from a simple light attached to a tree or your property to ensure no one is sitting in darkness, to decorative lights that you can string through the branches of a tree to make the area look even more attractive.
Buy Anti-Mosquito Candles
Pests like mosquitos can become a real problem in the summer, but you don't want them to spoil your summer party. Instead of making your guests put up with them, invest in some citronella garden candles. Not only to these prevent mosquitos becoming too much of a problem, but they also look attractive and release a lovely scent into the air, so they are well worth considering.
Invest in Outdoor Heating
Outdoor heaters are better than ever before and they are not as expensive as you might think. One of the problems with the summer time in Britain is that even a pleasant summer's day can become chilly as soon as the sun goes down, so invest in some heating and avoid having to call it a night too early.
Make Your Summer Party Special
These are all simple but very effective ways for you to make your summer party a success. You do not need to have a huge amount of space. Even a small space can be ideal for a little gathering, and it is usually a lot easier to decorate the area. So keep the above tips in mind and make sure your summer party is a resounding success.