Using security guards can provide a business with a variety of benefits. They offer peace of mind not only to the business itself but also to retail customers and individuals. They act as a visual deterrent of crime and can assist your business in meeting your security needs. Choosing professional security guards means ensuring that they have the appropriate accreditation and they are CRB checked, are friendly and courteous when required, and are experienced and skilled in all security matters required.
Peace Of Mind
Security guards offer peace of mind. They can patrol areas to give residents and business owners the peace of mind that they are being protected, but they can also offer peace of mind to retail customers. This peace of mind can help improve relationships and offer the kind of the protection that individuals, consumers, and businesses demand.
Crime Deterrent
The greatest benefit of using professional security guards is that they act as a visual deterrent. They can prevent vandalism, theft, and other forms of crime through their presence and this can protect a business and help ensure that it offers the level of security required to all of its customers.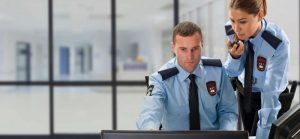 Meeting Security Needs
Many businesses employ a number of security policies including them monitoring of CCTV equipment, checking alarm systems, and monitoring areas such as entrance and exit gates. Professional security guards can provide these services as well as a number of other security related services. A professional team can also make recommendations according to your current setup and can ensure that your business is fully protected at all times.
Professional Service
In many cases, security guards are required for more than routing out criminals and preventing crime from taking place. They can control access points for visitors and this means that they not only need to prevent crime and act as a deterrent but they also need to provide a professional and courteous service to visitors. This service is especially useful for ensuring that visitors are legitimate and it can provide guests, contractors, and other legitimate people with a helpful service as well as a feeling of safety.