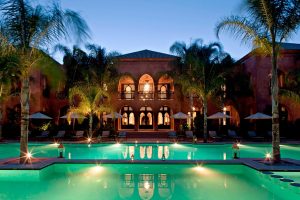 The road to Marrakech, made famous by the famous Crosby, Stills and Nash record of that name, is one now regularly trodden by thousands of tourists, at all times of the year. The reason for this ancient North African city's enduring popularity is perhaps obvious; it is a perfect holiday destination whatever the season. Few tourists fail but to enjoy their stay there. Personally, I have stayed there numerous times and have always relished the experience. If you have never visited this ancient gem, it is definitely worth visiting, if for nothing else than to soak up its unique atmosphere.
The city's origins date back to the 11th century, the time of the Moorish, North African conquest of Spain. Step into the old city, the Medina, that lies at the heart of this vibrant African city and close your eyes. You could be stepping back in time as you listen to the locals haggling for trade in the souks or street markets. The old city is the perfect place to begin your holiday in Marrakech. Soak up some culture, visit the sites and museums and acclimatise to the pace of life in Marrakech. Make sure you find the time for some leisurely lunches as you do so.
I find hotels in Marrakech a delight to stay in, whether they are in the Medina, or outside of the old city's imposing ten miles of gated walls. The riads, ancient palaces, which have recently been converted into luxury hotels, are particularly special places to stay in. I find they have a timeless charm, just like the Medina but thankfully not as full of noise and people.
After a few days in the old city, I would move outside of the pinkish-grey walls of the Medina and head for la Palmeraie, a purpose-built resort of mostly five and four star hotels set amongst myriads of palm trees, just seven miles from the old city. A hotel there is the perfect place either to relax by a pool and take in the sun, or to play sport. Golf courses abound, two of them eighteen hole courses that any golfer would enjoy. There are also tennis courts, gyms, and tranquil spas and saunas for the ultimate relaxing break. If you're travelling en famille, you will also find family-oriented entertainment centres a short drive away.
When you are feeling suitably chilled, toned, exercised or perhaps all three, take the car and head for the glorious sandy beaches of Essaouira. The beach is a three-hour drive from the resorts, but one definitely worth the effort. Then perhaps, it will be time for some serious shopping for holiday presents and souvenirs in the nearby district of Gueliz, a westernised shopping venue, complete with restaurants.
Marrakech has such a spread of activities to enjoy, it really is the perfect holiday destination, whatever your age or preferences! It is an iconic place to visit, with a hippy, cool feel to its name and centuries of history that literally, in some places, under-pin it. Not only that, but Marrakech has a wealth of delightful hotels and activities to offer to even the most discerning of travellers.