Ratchet straps may come in all different sizes, but their main use is to tie something down and keep it safe and secure on a long or short journey. If you go motor racing or stock car racing, for example, you will no doubt have a trailer and a set of ratchet straps to secure your vehicle whilst you travel from your home to the racing circuit.
Logistic companies will also use ratchet straps to secure pallets and parcels in lorries and vans so they do not topple over in transit. Shipping companies are another example of companies that use ratchet straps.
Ratchet straps can be bought from large DIY superstores or garages. The internet is also a great place to buy as there are many different sizes and strengths available. If you need to secure a car on a trailer, for example, you will need at least four ratchet straps to keep it safe and secure. You can purchase sets for this use, or if you prefer you may buy them separately though it may cost more that way.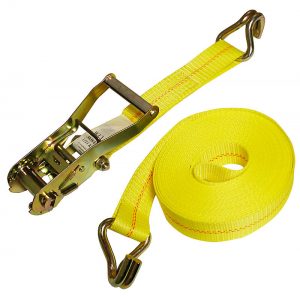 The strength of strap needed depends on what you are using it for. The industrial ones can hold loads of up to 10,000kgs and can be as long as 20 meters in length. The numbers listed on the ratchet straps are minimum break strength unless it states otherwise. The straps will attach themselves around any load no matter what shape it may be as they are made from soft polyester, but they are extremely strong and hard wearing. They are very easy to use and it can take just a matter of minutes to secure your load no matter how big or small it may be.
If you are buying a set of ratchet straps for yourself make sure they comply with the relevant safety regulations. This should be clearly marked on the packaging, but if in doubt it is always best to check.
Should you need a large number of ratchet straps for your own company they can even be personalized with the web address or telephone numbers, and they can also be supplied in any color you wish.