Halo engagement rings are the most beautiful rings you could imagine. They are made up of a large gem stone, usually a diamond that is surrounded by a beautiful ring of smaller gem stones that form a halo around the main stone. Most of the time the centre gem stone is round, but you can also buy oval or square halo engagement rings. You occasionally see other shapes of halo engagement rings such as hexagonal, and if you can afford to have a custom ring made could theoretically chose another shape. However, the nicest halo engagement rings are without a doubt round in shape.
The History of Halo Engagement Rings
Halo engagement rings have been around since the 1920s in the UK. Prior to that engagement rings usually consisted of a single stone with a few smaller stones set either side of the centre stone. Normally the size of the stones tapered and sometimes continued around the whole band of the ring. Or you could just buy a narrow gold band with a single stone set in it.
Once introduced halo engagement rings never really went out of fashion and rocketed in popularity when Prince Charles gave Princess Diana a sapphire halo engagement ring. Since then they have stayed very popular and are given in all countries around the world where engagement rings are used.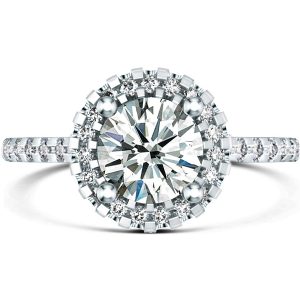 Halo engagement rings won themselves a whole new generation of fans when Prince William presented Kate Middleton with his mother's original sapphire ring, so it looks like halo engagement rings are definitely here to stay.
Buying Halo Engagement Rings
There are many types of halo engagement rings to choose from, so finding the right one for your girlfriend takes a bit of forethought and research. Your choice is of course in part affected by your budget, but there are other considerations. For example if your girlfriend has very fine or small hands you are restricted to buying halo engagement rings with smaller centre stones. If the centre stone is too big it will just look gaudy instead of elegant on your girlfriend's hand.