Whatever you call them, whether it's Gala Dinners, Achievement Recognition Ceremonies or simply Awards Evenings, awards ceremonies are a fantastic way to demonstrate that it's the people within your organisation who make it successful and that you value their input. Without the high achievers, the motivators, the dedicated but humble, head-down hard-workers there would be no company; full stop. They're also an excellent way for staff to interact with other department and to come together in recognition of the meaning of true teamwork. If you're involved in organizing an awards ceremony, we've compiled a list of suggestions designed to make your evening the success it deserves to be.
Plan ahead
Special events take time to organised effectively, so make sure your planning starts well ahead of time. It rarely falls to one person to organised events such as these, so delegation is the key to successful planning. Make sure everyone on the 'committee' has a clear idea of their individual responsibilities and the timescales involved. Regular updates are vital to ensure that things are moving along as scheduled and to plan. Let's look at the very minimum you need to consider.
Location
Calculate how large or small the venue needs to be for the amount of guests you anticipate and bear in mind travel issues or overnight accommodation which may need to be booked.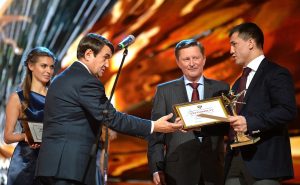 Catering
Are you holding a formal dinner or a more casual buffet? Consider special dietary requirements for each guest and talk these through with the caterers in advance.
The Order of Ceremony
Plan the order of ceremony bearing in mind who will be presenting the awards and what the awards themselves will be. A good estimation of the running order is vital to ensure that the show doesn't take over the entire evening. Ask recipients to keep their acceptance speeches (if any are required) brief and to the point.
The evening's theme
Decide on a theme for the evening and plan the table and room decorations around it. Will you have an after dinner speaker? What about entertainment after the ceremony? Will you choose a live band or is a DJ more appropriate?
Audio visual
Consider whether you require a video of the whole evening which can be distributed to the guest after the event. A recording of each staff member receiving their award can make the evening memorable for the individual in question.
Planning and organizing such an event can be a daunting task if it's your first time or even if you're an old hand at it and to prevent repetition and annual ceremonies becoming too formulaic, many organisations call in the services of an experienced events management company who can offer expert advice and more information on awards management.However you plan it and whatever scale of ceremony you plan, there's no doubt that awards ceremonies are a very special time for both employees and employers. The creation of bonhomie and togetherness they create can spur an organisation on to even greater achievements in the following twelve months.