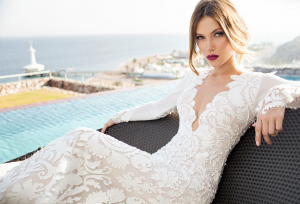 It's always exciting when a wedding invitation comes to you through the post; you look forward to an opportunity to catch up with old friends or family members you haven't seen in a while. You'll think of the food, the dress and the cake, and perhaps a couple of glasses of wine too. But before all of this, you remember that you need to find an outfit to wear and you simply don't have anything suitable in your wardrobe. There's no need to panic though as there are plenty of beautiful items available at the moment that would be perfect for a summer wedding. And when you pair these clothes with some equally gorgeous accessories, your outfit will be complete.
Floaty florals
The first look you might want to consider focusses on floaty florals which work perfectly in the warmer months. Maxi dresses have been in fashion for the past few years, and I think the prints on these have been gradually improving each year. A ditzy floral maxi dress in pink and white would be ideal for this occasion, as it would allow you to coordinate with a light pink blazer and pretty heels. Other floral pieces include pleated tops and tea dresses.
Cute chiffon
You'll often see floral prints on chiffon fabrics too, most likely on dresses. But not all chiffon dresses have these designs, as there are many that are plain colours too. These plain colours make good investment pieces as they will certainly be functional for other outfits in the future, meaning you aren't spending money just for the wedding day itself. My favourite choice here would be a mint green chiffon dress with a dip hem.
Pretty peplum
Next, let's have a look at the peplum trend. This is where the waist is cinched in before the fabric cascades outwards, providing the wearer with a wonderful shape. This style works especially well in sleeveless tops, pencil skirts and dresses, particularly at a midi length. I've just bought a purple peplum midi dress which I plan to wear through the summer and autumn this year; it is a refined but still sexy look which can be worn a number of ways.
Lovely lace
For an extremely feminine look, get your hands on some lace this year. This look can be done subtly with a simple panel on your outfit, or it might be one of the main fabrics used. For example, you may find a dress with a lace belt effect, or it may be used to provide some coverage above a standard bandeau cut. I've also seen some gorgeous lace detailing on some peplum tops; this would work well with a pencil skirt and stiletto heels.